Build Database Apps without an IT Department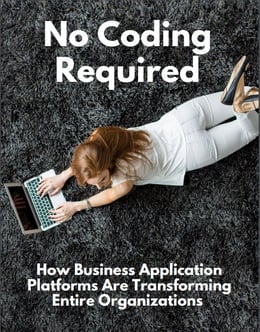 The proliferation of technology has forever changed the way we work. Customers who have lightning speed access to the services they depend on expect the same from your company. And with threshold lowering for serious competitors to enter the marketplace, companies who expect to thrive in the 21st century can't afford not to deliver quick service based on their customers' evolving needs.
Line of business owners aware of these issues need an agile solution that's not only quick to deploy, but adaptable to changing business needs. With the emergence of the Software as a Solution (SaaS) over the last 16 years, business leaders have a plethora of cloud-based solutions to run custom process management that teams decades could only dream of. Now with Application Platform as a Service (aPaaS) in the mix, that selection is not only expanding, but enhancing the ease and access to solutions once only reserved for the technical and code-savvy.
No code business applications isn't just a buzzphrase -- it's a reality more organizations are turning to for transforming their business.
In this eBook, you'll learn:
how to become a citizen developer and start solving some of your most challenging business problems.
why business application platforms are liberating IT leaders to focus on more pressing issues such as data security.
how no code solutions starting in one department can having a productivity and morale boosting rippling effect across your entire company.